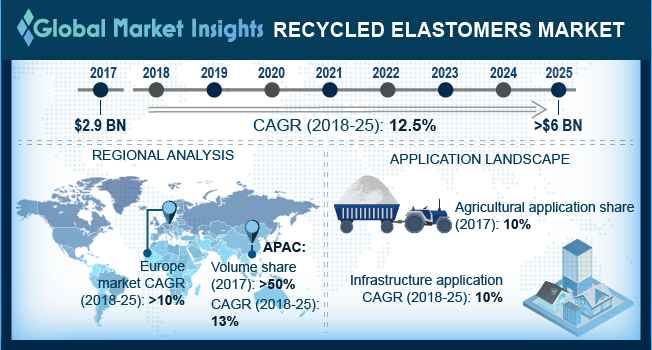 The Recycled Elastomers Market will surpass US$6 billion by 2025; according to a new research report by Global Market Insights, Inc.
Growth in the home and gardening industry of North America has resulted in demand for mulch and flooring surfaces made from recycled tires. In 2017 alone, the market for home and garden in the U.S. reached about USD 272 billion and this is expected to grow by another USD 10 billion by the end of 2018. This will be one of the major propelling factors that will impact the recycled elastomers market growth in a positive manner.
Recycled elastomers, mainly made from end of life tires, are used in flooring tiles and sheets for gardens, bathrooms, kitchens, laundry rooms, etc. The product is widely used as a substitute for traditional wood bark for landscaping and garden surfacing applications, due to its superior properties as it does not decompose, dry, blow away, retains heat, color shapes and acts as a suppressant for bugs and weeds.
Growth in the sports industry will also contribute to the expansion of the global recycled elastomers market in coming years. Reclaimed rubbers are used in playground surfaces as well as in sports grounds. Crumb rubber, derived from end of life tires, is mostly used as the infill material for synthetic turf fields. The product is spread between the grass fibers to provide cushioning and traction to the players while they are playing.
Based on revenue, recycled styrene butadiene rubber will observe a CAGR over 13 per cent over the forecast time frame.
On the basis of volume, the Asia Pacific recycled elastomers market will witness the CAGR close to 13 per cent. Population growth and rise in disposable income of the individuals in the region will substantially augment the medical, agriculture, sports product, infrastructure, home & garden industry in Asia Pacific, prompting demand for recycled rubber.
Some of the prominent players in the recycled elastomers market include GRP Ltd., Liberty Tire Recycling, American Tire Recycling, West Coast Rubber Recycling, Monmouth Rubber & Plastics Corp., J.Allcock & Sons Limited, RubberFoam Recycled Products LLC, American Recycling Center, Green Rubber One Sdn. Bsd., Austin Rubber Company LLC, Klean Industries, Genan Holding A/S, Rubbergreen, Entech Inc., Emanuel Tire Co and others.