The Recy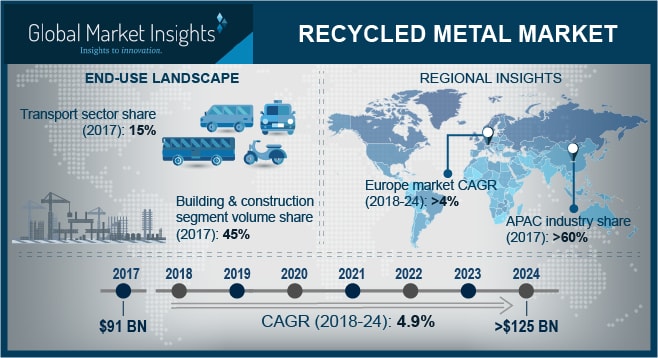 cled Metal Market is forecast to exceed US$125 billion by 2024; according to a new research report by Global Market Insights, Inc.
North America's electrical and electronics industry is on the rise due in part to consistently changing consumer preferences and continuous technology upgrades. The electrical and electronics industry was valued more than US$900 billion in 2016 and accounted for a total of 21 per cent of the global electrical and electronics industry.
These trends will drive reprocessed metal demand owing to its wide spread applications in metal plating for electronics.
Ineffective metal reprocessing is a key constraint which is likely to impede the global reprocessed metal market size by 2024. For instance, 40 per cent of  copper produced is attained from recycling and 33 per cent of aluminum produced is attained from recycling processes.
However, an increasing emphasis on metal processing and reusability to reduce carbon footprints and the impact of hazardous waste will generate opportunities for the reprocessed metal market by 2024.
The recycled non-ferrous metal market was valued more than US$ 90 billion in 2017. These metals find wide-ranging applications across construction, electrical and electronics, transport, consumer goods, industrial machinery, nuclear, military and other end-user industries. For instance, lead is widely used electronics in batteries, ammunition, cable sheathing, etc. Lead batteries are used in transport industry and constituted approximately 35 per cent of the total industry share in terms of volume in 2017. These trends will help boost the global recycled metal market share by 2024.
Recycled metal market share for building and construction constituted close to 45 per cent of total business volume in 2017. Ferrous metals (iron and steel) are broadly used in the construction of large steel frameworks in the building, bridges, drainage components and various other architectural frameworks. Non-ferrous metals including aluminum, copper and lead are also utilized in the sector. Lead sheets are used for roofing, cladding of vertical walls, soundproofing in partitions and ceilings in office, school and hotel buildings. These trends will help make considerable contribution to reprocessed metal market size by 2024.
In Europe, recycled metals' market share is projected witness gains of more than four per cent during the forecast timeframe. This is primarily due to stringent legislation imposed by environmental regulatory bodies in Europe, which has triggered metal recycling to reduce carbon footprints and help save the environment from hazardous waste. Directive 2012/19/EU prevents the generation of electrical and electronic waste and to promotes reuse, recycling and other forms of recovery to reduce the quantity of waste. These trends are likely to make significant impact on the reprocessed metal market size by 2024.
Key reprocessed metal market players are Sims Metal Management, Steel Dynamics, European Metal Recycling, Nucor Corporation, ELG HanielGmbh, Schnitzer Steel and Novelis. The market players are expanding their capacity to process metal to attain profitability in the market. Novelis announced to build flat-rolled aluminum plant in January 2018 in Kentucky for US$300 million.