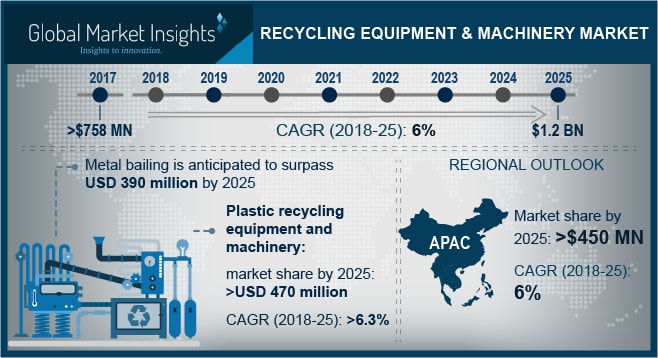 The market for recycling equipment and machinery is forecast to reach US$1.2 billion by 2025; according to a new research report by Global Market Insights, Inc.
Recycling equipment and machinery processes and separates materials such end-of-life tires, electric components such as mobile phones, electric motors, e-waste, plastic bottles made of PET, engineering plastics, end of life vehicles, paper and wood products.
The recycling equipment and machinery market is driven by several trends:
Increasing industrial commitment to cleaner operations and smaller carbon footprints, with the resulting use of more recycled products in production and increasing diversion of recyclables from landfills;
The need to urgently curb green house emissions has also resulted in development of eco-friendly materials which will reduce the carbon footprint globally;
Stringent laws and regulations imposed by local governments, especially in Europe and North America are fuelling demand for equipment.
The baler press is the most widely used machine in the recycling industry, accounting for almost 30 percent of the market. These presses are widely used in bailing almost any material such as plastic, scrap metal, rubber, iron and steel, and are available in vertical and horizontal configurations.
Among all applications, metal bailing is one of the fastest growing applications for this type of recycling machine. This segment will pass US$390 million by the end of the projected period, increasing at a CAGR over 5.7 per cent.
Plastic is the largest recycled material globally after ferrous materials. Almost 8.5 billion tons of plastic is manufactured yearly of which almost six billion tons of plastic goes waste. Only 10 per cent of this wasted plastic gets recycled every year.
With the increase in regulations in Europe & North America regarding landfilling of plastic and the use of bioplastics, the demand for plastic recycling equipment and machinery is anticipated to rise at a CAGR over 6.3 per cent during the forecast period. This segment will likely surpass almost US$470 million by 2025.
Asia Pacific is the largest market for recycling equipment and machinery as majority of plastic recycled is imported and processed in China. South Korea, Malaysia, Singapore, Thailand, Australia are also large secondary markets in the region. In Asia Pacific the recycling equipment and machinery market is predicted to grow at a CAGR of six per cent and will surpass US$450 million by 2025.
Key players present in the recycling equipment & machinery market include: Panchal Plastic Machinery Private Ltd; Danieli Centro Recycling; Lefort; Morita Holdings Corporation; BHS Sonthofen; Forrec Srl Recycling; Idromec Spa; Mid Atlantic Waste Systems; Suny Group; Roter Recycling; Vecoplan AG; Shred-tech Corporation; and Gamma Meccanica SPA, among others.