Schaefer Systems International's senior VP of Waste Technologies, Michael Knaub, is retiring after 23 years with the company and over 40 years in the waste and recycling industry.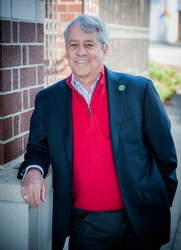 Knaub joined Schaefer in 1991 and will officially retire on June 30, 2014. Effective July 1, Maria Frizzell, current executive director of sales & operations, will lead the Waste Technology Division at Schaefer Systems International Inc. Frizzell joined the company 11 years ago. During this time, she worked side by side with Knaub, growing the division into one of the top suppliers of products for waste technology and recycling in North America.
Knaub's career in the waste and recycling industry began as a very young child. His father owned and operated a waste hauling and recycling company started by his grandfather in 1915. During his high school and college years, Knaub continued to work with the family business. In 1979, he began working with Rubbermaid Applied Products in a Regional Sales position.
"The Board of Directors of Schaefer Systems wishes to express their thanks and gratitude to Michael for his 23 years of service and compliment him for his high level of integrity and dedication to which he conducted our business," said Schaefer Systems President Arnold Heuzen.
Knaub joined Schaefer Systems International Inc. in 1991 as Regional Sales Manager and worked his way through the ranks until he was appointed senior VP/managing director in 2007. During his years with the company, he served on many boards and committees within the industry. These include the WASTEC Board of Directors (2003-2008) and the SWANA North Carolina Board of Directors (2008-2010). Knaub was also the SWANA International Corporate Director (1997-1999) and WASTEC Chairman of the Board of Directors (2007-2008). He was named "Newsmaker of the Year" by Waste News in 2004. In 2009, Knaub was inducted into the Environmental Industry Association's Hall of Fame.
Upon retirement, Knaub plans to continue his work with the Toys for Tots Foundation and homeless shelters in the Charlotte region. He is also looking forward to traveling with his wife and grandchildren.
About Schaefer Systems International North America
Schaefer Systems International designs and manufactures state-of-the-art storage, materials handling, intralogistic and waste technology solutions to businesses throughout North America. Headquartered in Charlotte, North Carolina, Schaefer Systems International is part of the SSI SCHAEFER group, a global leader in logistics and materials handling founded in 1937 with offices and plants in over 60 different countries.